Gladinet
Team Edition
Simple, secure and seamless collaboration on any device. Hosted by Gladinet.
Virtual Desktop Friendly Solution
Use online storage in a virtual desktop infrastructure (VDI) environment
Table of Contents

Introduction
Gladinet Cloud and Gladinet Cloud Enterprise make it simple to use online storage and integrate it with existing IT infrastructure.
The files and folders can be integrated natively into PC as a local logical drive, allowing users to start using online storage without retraining.
Drive mapping enables direct random access, making it user friendly in a virtual desktop infrastructure (VDI) environment.
Problem Statement
You would like to integrate Online Storage into your existing IT infrastructure. However, many of the current online storage solutions provide a special, fully synchronized folder, which is not friendly for virtual desktop environments.
You don't want full synchronization to start every time you sign into the virtual desktop and stop in the middle when you sign off the virtual desktop.
Previous Options
Most online storage services have browser-based access methods. Some have a specialized folder that will be synchronized with online storage. For a virtual desktop, most of the time, users will be limited to browser-based access.
Gladinet Solution
Gladinet allows you to access online storage directly from a desktop PC or file server. The online storage will appear as a drive letter for direct random access.
Gladinet solutions include the Gladinet Cloud Desktop client (Team Client) and Gladinet Cloud File Server client (Cloud Server). The team client gives you a local drive mapped directly to online storage. The Gladinet Cloud File Server client not only gives a drive letter presentation of the online storage, but also allows the folders inside the online storage to be published as network shares.
For a virtual desktop, you can browse files and folders as if they are local to the virtual desktop. When you are ready to access the file, it will be accessed on demand from the online storage, reducing impact on the limited resources of the virtual desktop. There is no full sync required which makes it easy to start or tear down a virtual desktop.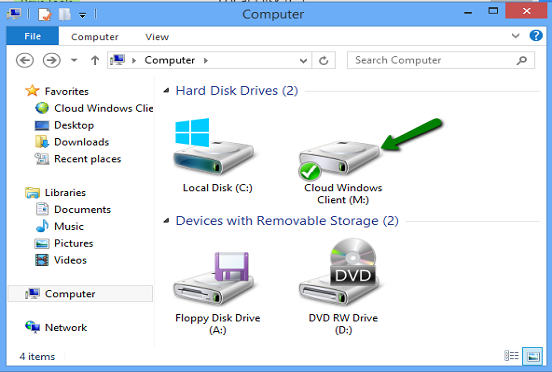 Solution 1 - Gladinet Cloud Team Client
Gladinet Cloud Team Client creates a local drive for the online storage you are using.
Solution 2 - Gladinet Cloud Team Server
Gladinet Cloud Team Server can integrate online storage as a file server volume. From the file server volume, the folders from online storage can be published as network shares on the local area network.
Summary
Gladinet Cloud Team Edition allows an organization to provide simple, secure files and folder sharing solution over the Internet, and access the online storage from local drives. This makes it easy to use from a virtual desktop environment.