Gladinet Cloud Desktop allows you to access cloud storage like a local drive on your desktop. It also allows you to backup files, folders, and provides synchronized access to your data from multiple machines.
Gladinet Cloud Desktop Overview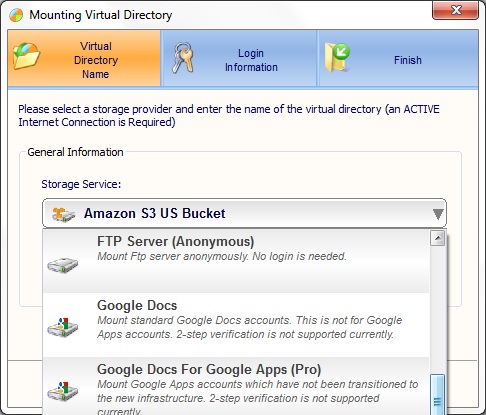 Select a Storage Service
| | | |
| --- | --- | --- |
| | 1 of 6 | |
Gladinet Cloud Desktop Licensing:
Please visit Gladinet Wiki for detailed licensing information.
Disclaimer:
*The login credentials for cloud storages and services are stored in user's local PC or in memory. Gladinet does not collect them. They are used only when connecting to cloud services.
Gladinet is an independent and open platform to deliver and integrate web services into your desktop operating system.
All the integrations are done by using public information or open APIs available to any independent developers.
Gladinet is not affiliated with, nor endorsed by respective companies.
Cloud Desktop is a trademark of Gladinet, Inc.