Gladinet
Team Edition
Simple, secure and seamless collaboration on any device. Hosted by Gladinet.
Folder Share Over the Internet
Share Files and Folders Online with Your Team Members Anytime, Anywhere
Table of Contents

Introduction
Gladinet Cloud and Gladinet Cloud Enterprise make it simple to share files and folders internally with team members, as well as with external partners, clients and vendors.
The files and folders can be shared directly from a user's desktop or from a file server. Users can also drag and drop files and folders into Gladinet Cloud and share them from there.
Problem Statement
You may be a medical practice that needs to share marketing materials with offices in multiple locations. You may be a construction or energy company that has a mobile work force that needs to share documents from a file server in your main office. Or perhaps you are a financial advisor collecting customer information that needs to be saved it to a central location for further processing. Whatever the case, you need to share files over the internet.
It may be OK to attach smaller files to emails but if you are sharing a large document or folder, you may have issues.
Previous Options
Prior to online storage, email was used to send and share documents. With online storage, people may upload files and folders to online storage and share the files and folders once the files have been transferred to online cloud storage. Not many online storage vendors have native file server support. So, if you need to share a folder that is on a file server, you will have to first find a way to copy the folder to online storage.
Gladinet Solution
Gladinet allows you to share directly from a desktop PC or file server using a unique technology (patent pending) that attaches your local folder to online cloud storage. Once attached, the folder can immediately be shared over the Internet, without waiting for the full upload to be completed.
Gladinet solutions include the Gladinet Cloud Desktop client (Team Client) and Gladinet Cloud File Server client (Cloud Server). These products give you the option to share from your desktop PC or from a file server.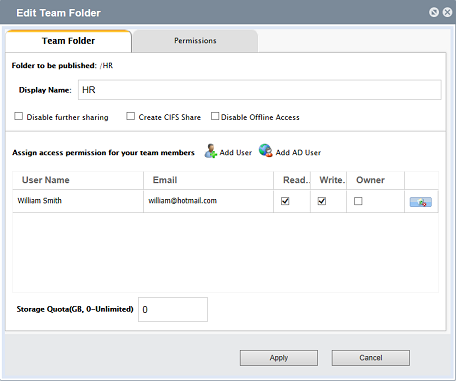 Solution 1 - Team Folder Sharing
The administrator can create team folders and assign them to team members. Team members can access team folders over the Internet using a browser-based file explorer, desktop client, file server client, or mobile devices.
Solution 2 - Sharing with Individual Person
Each Gladinet Cloud user can share files and folders with other Gladinet Cloud users, with read/write permissions. Each user can also share files and folders with external partners, giving them read-only, browser based access.
Summary
Gladinet Cloud Team Edition allows an organization to provide a simple, secure file and folder sharing solution over the Internet.